RPD714N95 - Respirateurs jetables
Regular price
Sale price
$24.99 CAD
Unit price
per
Sale
Sold out
Respirateurs jetables - Dynamic
Ces respirateurs jetables sont de puissants outils de travail que vous avez toujours recherché. Idéal pour les travailleurs qui doivent porter un masque pendant de longues périodes.
Ces respirateurs N95 sont approuvés NIOSH pour utilisation dans des environnements non-huileux.
Coussinet nasal en mousse à alvéoles fermée avec surface plus lisse qui forme un coussin entre le nez et le masque améliorant le confort et procurant une meilleure étanchéitée.
Coussinet nasal couvrant une surface plus étandue pour un meilleur ajustement aux différentes formes de visages.
Pinse nasale qui aide à configurer le masque selon la forme du nez de l'utilisateur pour une étanchéité supérieure réduisant l'effet de buée dans les lunettes.
Sans latex ni aucun allergène courant et donc sans tracas pour vous et vos travailleurs.
Modèle avec valve d'exhalation pour plus de confort et ainsi améliorer la productivité des travailleurs.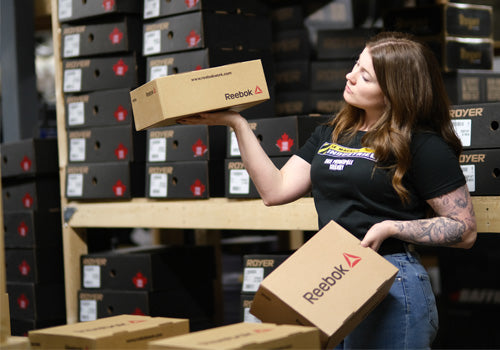 A VAST INVENTORY...
The Industrial Store benefits from a storage space of more than 15,000 square feet to manage a vast inventory of products offered by the most prestigious brands in the Canadian work shoe market.
About Free Shipping...

On orders of $99.00 or more for most regions of Quebec, we offer free delivery. For terms and conditions that apply, please read our Terms and Conditions section.

Quality products.

Le Magasin Industriel is proud to offer you quality products distributed by the biggest brands in the Canadian CSA work shoe market.

ROYER 601SP2

Shipping your order.

Our large inventory allows us to ship quickly and efficiently. If unusual delays are expected, a representative will contact you.